| | |
| --- | --- |
| Posted by Jessica on November 27, 2015 at 11:55 PM | |
I AM THANKFUL - most people know me as "the bear girl" and I am proud of that, being the "bear girl" means I get to help lots of people and I am thankful for that.
I AM THANKFUL - that I am adopted. I love my family and am so happy to have a family of my own. I am also VERY happy that our family is growing and I get to be a big sister...I hope. My family has applied to adopt a little girl who has a cleft lip and palate just like me. She's 5 years old (the same age I was when I was adopted) but her lip and palate hasn't been fixed yet. I have already had 7 surgeries on my lip and palate so I know I can help her through all the things she is going to face.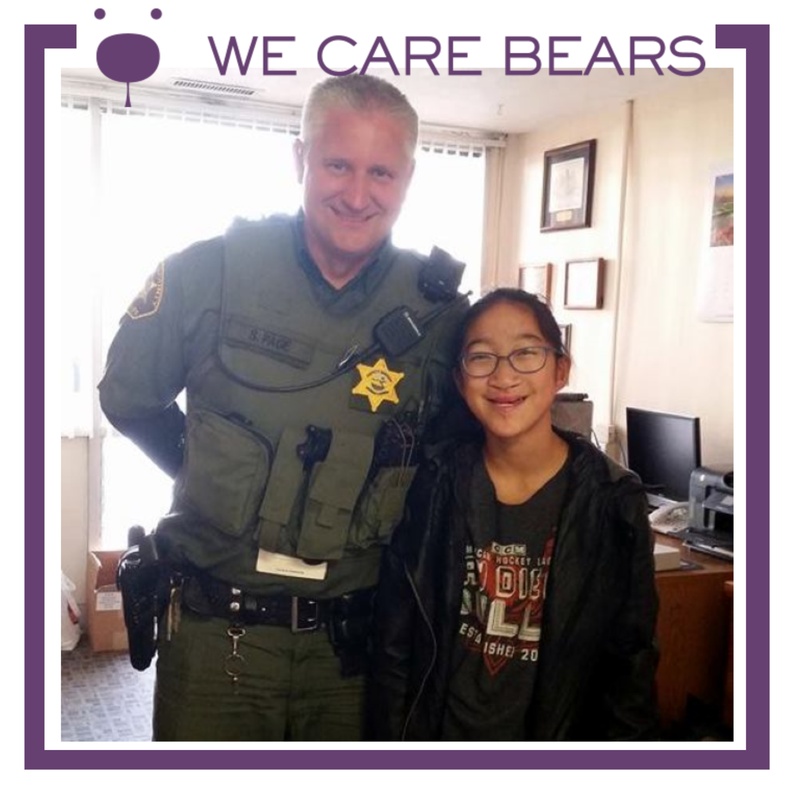 I AM THANKFUL- for the first responders across the country that work selflessly to keep us safe daily, even during holidays. Today I had the pleasure to deliver 100 stuffed animals to the Orange County Sheriff's Office.
I AM THANKFUL - to the San Diego Gulls hockey team for inviting to the game tonight and naming We Care Bears as a community hero. I LOVE hockey and having the Gulls here in town is wonderful. I look forward to some fun partnerships with the Gulls this year. PLUS, they've never lost a game I've attended! Tonight's game was really close, but the Gulls held off a huge power play in the last minute of the game, it was AWESOME.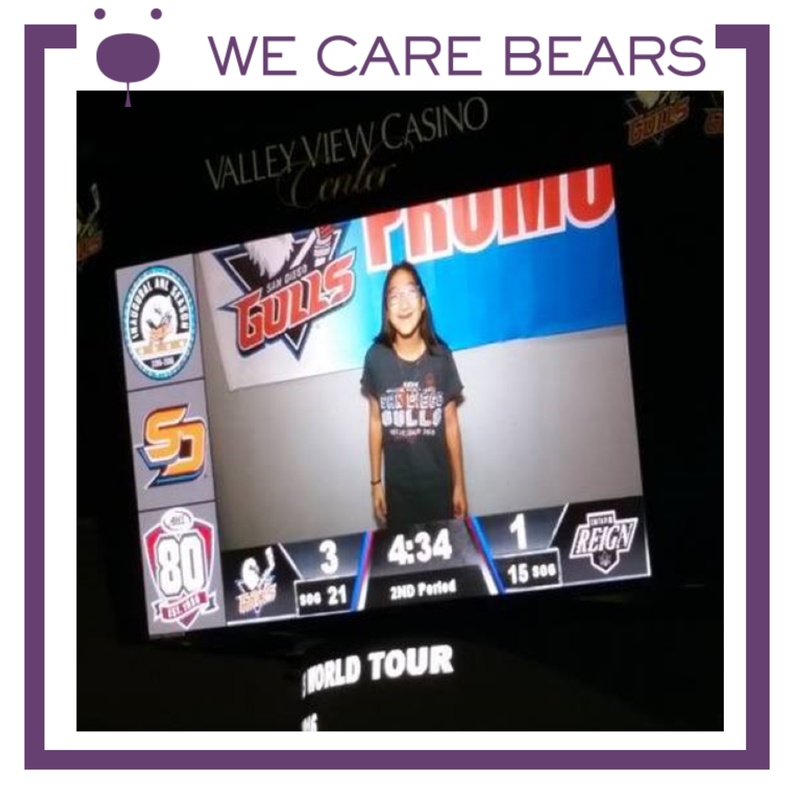 I AM THANKFUL - to all of YOU who support the We Care Bears project. I couldn't do what I do, without you. So far this year we have donated more than 2,600 stuffed animals to agencies all over the country.
My list of "thankfuls" could go on for days so I'll stop there, but encourage you to leave on comment on this post of the things that you are thankful for this year. It's always fun to hear from you.
If you would like to see We Care Bears in the hands of your local first responders please let me know by using the "contact" form of the website. My goal in 2016 is to get We Care Bears in 10 new states...let's make yours one of them!!!
Also, if you want to help "Be the Change for Jentry" you can donate at: gofundme.com/forjentry
Categories: None